Employment Help Centre
Helping people move forward.
The Employment Help Centre (EHC) – located in Beamsville, Grimsby and Smithville – is a not-for-profit organization providing a full range of employment services and supports to both job seekers and employers.
Connecting Local Businesses With Employees
Whether you need a simple resume tune-up or personalized support, we can provide assistance at all levels of your job search. Looking to hire? We make finding the right employee simple, convenient and cost-effective.
By providing the necessary services, knowledgeable staff, and employing common standards, the EHC strives towards making an impact on the lives of individuals and building a stronger Niagara West community.
Our services are free and confidential.
Service Hours:
Monday - Friday | 8:30am - 4:30pm
Grimsby location is open until 7:00pm every Wednesday
Beamsville
Academy Plaza
4520 Ontario St. Unit 11
Beamsville, ON L0R 1B5
 905-563-9675
 905-563-9698
Grimsby
Village Inn Centre
63 Main St. West Unit 6
Grimsby, ON L3M 4H1
 905-309-9675
 905-309-5594
Smithville
Village Square Plaza
249 St. Catharine St.
P.O. Box 906, Units 10 & 13
Smithville, ON L0R 2A0
 905-957-9675
 905-957-6073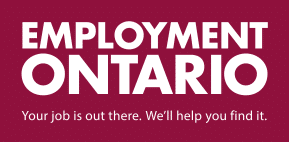 This Employment Ontario service is funded by the Ontario government.
The views expressed on this website are the views of the Employment Help Centre and do not necessarily reflect those of the Ministry.